***New Book!*** 2023
Imaginary Rain
by Vikas Khanna
Edited by Paul Assimacopoulos
This is the second novel I've worked on with Vikas as creative consultant and developmental editor, from its inception through publication by Penguin/Ebury Press (mine were the last eyes on the pre-print galley). We considered this our "pandemic" literary project. I especially loved working on this book because it gave me purpose and creative focus when I arrived back in a million little pieces from overseas in a state of trauma and also because it takes place partially in my home town of New York—Manhattan and Staten Island. Was such a pleasure to help develop the narrative and scenes around diverse NY-local characters, settings, and experiences (check out the chapter titles), as well as a strong, international female protagonist.
Imaginary Rain tells the story of Prerna, an Indian immigrant woman now in her fifties, who has been running an Indian restaurant in downtown Manhattan for two decades. Prerna is on the cusp of a midlife crisis, and her life unravels when she suddenly loses her son, her lease, and with these, her passion for cooking. Caught in the grip of newly awakened emotions, Prerna finds herself confronted by many haunting questions from her past, which take her back to her motherland, India. So begins an intensely personal struggle that will lead Prerna to forgive herself, escape her past and rediscover her true passion for cooking. This novel is a celebration of life as well as an immigrant's story of survival, forgiveness and moving on.
Paperback and e-book available on Amazon India. E-book available on Amazon US
The Last Color
by Vikas Khanna
Edited by Paul Assimacopoulos.
"Dear Paul, Thank you for adding so much color to the 'colorless.' Every statement came to life because of you! Thank you." —Vikas Khanna.
I loved working on and developing this bestselling book, and I really admire the author. He and I developed this colorful novel from a shorter novella. It's about the fraught relationships between an untouchable orphan, Chhoti, a transgender known as Anarkali, and a widow, Noor, who is forbidden to wear any color other than white. The story takes place on the rough-and-tumble but holy banks of the Ganges River in the oldest city in the world, Varanasi (Bloomsbury, 2018). More Info
Preview the bestselling The Last Color HERE or HERE
Watch my Last Color interview (Pt1)
Watch my Last Color Interview (Pt 2)
See the author and I presenting the project at the UN
The Director, Vikas Khanna, and I adapted the novel into a screenplay and festival-favorite, Oscar-eligible film—
Drinking and Driving in Ürümqi
by Andrew Demetre (Paul Assimacopoulos)
"…a lively travelogue Anthony Bourdain would have killed for."
—Leah Taylor, Flavorpill
This book is by yours truly. My first nonfiction book, a travelogue chronicling one night out amid the Uyghur people and their obfuscated, oppressed culture. It's set in Xinjiang, China's remotest province, where riots had just occurred. The book's style mixes elements of memoir and reportage (Strangers Gate Books, 2013). More Info
Click here for Norient podcast with Arshia Haq of Radio Discostan
Click here for free E-book pdf
(E-book download is free, but please consider contributing $3.99 for the writer's effort and costs of publication via PayPal: strangersgatebooks@gmail.com. Limited, signed hard copies are also available directly from the publisher for $15, shipping included. Simply pay through our PayPal account and email us your shipping address. Book will arrive via regular mail.)

Chapter 1 Excerpt:
"An unusually warm and clear evening soothed riot-scarred Ürümqi, Xinjiang Uyghur Autonomous Region, the far northwestern province of the People's Republic of China, a place known to some as East Turkestan. It was October, and Rihangül and I were to meet a friend of hers from college and go out on the town. Rihangül, whose name translated as "fragrant flower," appeared from her room, fresh, sultry, an edge over thirty, and put together in a flamboyant silk blouse and tapered jeans between sleek black boots, storms of hair, and striking Egyptian eyes that stared right into you. I paced around in her wake, disorderly in my jacket, unshaven, travel-worn, caffeine deprived, a few lines traversing my face, some fat peeking over my belt—otherwise able bodied, but completely unfit for middle age. Rihangül was exuberant and decked out for good reason: her first time back in two years. She was home. I was also excited: it was my first time in Ürümqi . . . "
RadioXUAR: The Unheard Music (of the Uyghurs)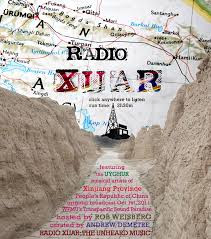 This was a companion project to the above book— an interview and almost three-hour, curated DJ set presenting a diversity of Uyghur-produced and performed music. RadioXUAR originally aired on WFMU's Transpacific Sound Paradise with Rob Weisberg and served as one inspiration for the documentary, The Silk Road of Pop, directed by Sameer Farooq. More info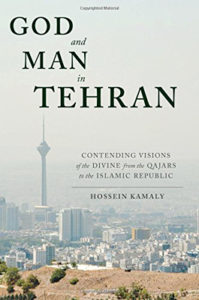 God and Man in Tehran
by Hossein Kamaly
Edited by Paul Assimacopoulos
"To Paul, With many thanks for making it better."
—Hossein Kamaly, May 1st, 2018
This narrative history book is philosophical, beautifully written, and more accessible than you'd think for an academic book created from hundreds of sources. GMT explores the historical processes that have made and unmade contending visions of God and notions of the divine in Iran's capital throughout the past two centuries. (Columbia University Press, 2018). More Info
FREE!, the Memoir of Fernando Bermudez (aka Most)
Co-developed and Edited by Paul Assimacopoulos
I'm currently developing and editing this future book with the author ( which I predict will be a best seller). In New York of 1991, 21-year old graffiti artist and college hopeful Fernando Bermudez was arrested for a murder he didn't commit. Eighteen years, eleven appeals, and much hope, strife, self-education, tenacity, legal wrangling, and letter-writing later, he was finally exonerated. This is his story.
Teetering the Line: Street Art Interpretations of Post-Modern Life
by Dan Drossman
Introduction and description Co-developed and Edited by Paul Assimacopoulos
Cool project. I worked with this street artist and illustrator on the book intro, captions, and back of book copy for this meditation, art experiment, fine art book, social exploration, emotional journey—a coloring book for adults (who knew?). Teetering the Line features reproductions of the artist's original artworks for others to color in. Drossman's work evokes the art of Keith Haring, Kenny Scharf, Banksy, Carol Dunham, Shepard Fairey, and Takashi Murakami, but is unique in its intricate, more emotional, edgier, post-Industrial obsessions created in bursts across the year of the artist's emotional recovery (Dross Publications, 2017). More info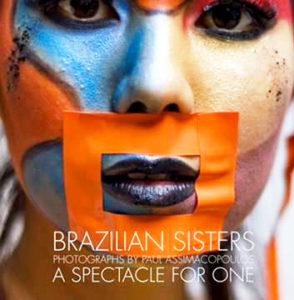 Brazilian Sisters: a Spectacle For One.
by Paul Assimacopoulos
*Numbered and Signed
Limited Edition copies of this colorful coffee table book available. Please email strangersgatebooks@gmail.com for purchase information.
A Spectacle For One is my photo-and-text monograph exploring the short-lived but exciting sibling performance trio, Brazilian Sisters, who first charmed me at the Deitch Art Parade back in the day in New York City. Denise, Paula, and Giselle—true Brazilian sisters— were my dream subjects, passionately, irreverently and reverently riding the line between a complete lack of creative preparation and brilliant improvisation in their fusion of performance and sophisticated use of recycled materials. Truly ahead of their time. My goal with A Spectacle for One was to present and celebrate both their individual and collective personalities in the studio (Strangers Gate Books, 2008). More Info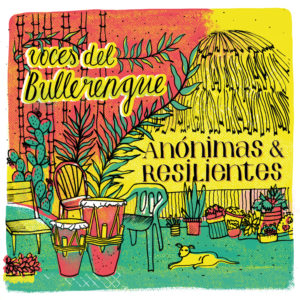 Anonimas & Resilientes – Voces del Bullerengue
By Manuel Garcia-Orozco and Chaco World Music
*Grammy and Latin Grammy Nominated, Best CD Packaging
English Liner Note and CD Booklet Editor Paul Assimacopoulos,
Anonimas & Resilentes – Voces del Bullerengue (Anonymous & Resilient, Voices of Bullerengue) is a multimedia, ethnographic and World Music project documenting the rich tradition of bullerengue, a vocal-based music driven by cantadoras, elderly, often marginalized women from small, neglected Colombian villages near the Caribbean coast, descendants of runaway slaves and freed people who have managed to hang onto their Afro-Cuban and African musical traditions.
More info: Chaco World Music – Spanish Version
More info: Chaco World Music – English Version
Excellent RootsWorld review by Bruce Miller
***New Book!*** 2023

10KLRS: 10,000 Lakes
to the Rising Sun


By Allen Wayne Lindskoog
Co-developed and Edited by
Paul Assimacopoulos
No, the title is not some code word for a secret government project (or maybe it is?). With 10KLRS: 10,000 Lakes to the Rising Sun, author Allen Wayne Lindskoog, an American from Minneapolis, Minnesota, who has been living in Japan for nearly two decades, lets it all hang out in this debut collection of episodes, narrative essays, and cultural observations about what it means to become Japanese through the American looking glass. As a guidebook, 10KLRS can also help readers avoid potential blunders and gain smoother entry into the culturally rich and beautiful country of Japan. I immensely enjoyed working on this project also because the author was kind enough to import me, his editor, into Japan for the first time, putting me up in a tiny but charming Tokyo apartment (in Koganei) and showing me around by road bike (10KLRS Publications, 2022). More Info
Select Articles and Artist Client Content
"Take Mobile Learning to Students Trapped in Afghan Conflict Zones"
by Shakib Noori
(Tolo News, March 2017)
Link
"Securing the Afghan Hub"
by Shakib Noori
(The Daily O, December 2017)
Link
"India: Seeing the Port of Chabahar for the Game Changer It Is"
by Shakib Noori
(The Daily O, March 2017)
Link
Eduardo Gil (conceptual artist)
Link
Rose Freymuth-Frazier (painter)
Link